Discover the Exceptional Quality You've Been Looking For in a Used Lexus from the Dallas Area
If you're shopping for a luxurious used car in Carrollton or luxury SUV in the Dallas/Fort Worth area, you'll want to make sure to pay a visit to our Carrollton showroom and browse our compelling inventory of Lexus vehicles.
With a well-deserved reputation for providing owners with well-built, reliable vehicles that represent a tremendous value both when purchased new and throughout their long lives, Lexus has consistently held universal appeal for car shoppers who want a  vehicle they can rely on for years of driving enjoyment. As a matter of fact, Lexus has earned back-to-back wins as the Best Overall Luxury Brand in the Kelley Blue Book Brand Image Awards -- and it was also named Most Trusted Luxury Brand in consecutive years! Clearly, when you choose a Lexus you know that you're selecting a vehicle that provides you exceptional reliability and safety over the car's entire lifespan.
At eCarOne, we offer our valued customers high-quality luxury used cars in the Dallas area that have been carefully inspected and researched. After all, we know that you want the best, most up-to-date options -- so that's what we specialize in delivering. So when you shop our inventory of finely-crafted Lexus vehicles, you can do so with the confidence that comes from knowing you're looking at the Dallas area's best selection of used Lexus cars and SUVs in our Carrollton lot.
Lexus IS 250
This sporty sedan may fool many when they first sit in the driver's seat, as it offers a far more adventurous driving environment than many credit Lexus with offering. Rest assured, it's still a luxurious interior appointments and high-tech features you expect, with the addition of agile handling and sharp steering. Standard features offered in the IS 250 include 17-inch alloy wheels, keyless entry, push-button start, leather upholstery, Bluetooth® and smartphone connectivity and power front seats; may of our models, naturally, feature the optional upgrades that enhance the driver's enjoyment.
Lexus ES 350
This midsize sedan delivers the quintessential Lexus experience, with a roomy, quiet and comfortable cabin welcoming all five occupants. Powered by a V6 engine, recent iterations of the ES 350 offer standard LED headlights, a sunroof, an 8-inch touchscreen media interface, a rearview camera and Bluetooth® for both phone and audio.
Lexus RX 350
Given the continued popularity SUVs enjoy in America, we'd be remiss if we didn't draw your attention to the RX 350. This family-favorite offers all of the comfort, convenience and luxury you could want, while a healthy V6 engine delivers the power and smooth acceleration you need. You can expect to find such standard amenities as 18-inch alloy wheels, LED headlights, a power liftgate, a smartphone-integrated navigation system and a comprehensive suite of driver assistance and safety features.
Frequently Asked Questions About the Used Lexus Inventory at eCarOne
We understand you might have questions about our quality selection of used Lexus luxury vehicles at our Dallas area dealership. Here are the answers to some of the most common questions we receive. Please contact us anytime if you need more information!
What Used Lexus SUVs Have Third-Row Seating?
Three SUVs in the Lexus lineup have third-row seating: the Lexus RX, Lexus GX, and Lexus LX. Here's a little more information on those SUVs!
Lexus RXL
The smallest of the third-row Lexus SUVs, the RXL is a sporty mid-size luxury SUV with amazing agility and handling. The RXL adds a third row to the mix, giving it a seating capacity for up to seven passengers!
Lexus GX
The Lexus GX is a third-row dynamo with comfortable seating throughout the spacious SUV. Second-row passengers can enjoy the comfort that comes from settling into their own captain's chair. The third row can comfortably hold three passengers, or fold flat to maximize the cargo space. The possibilities are endless with the Lexus GX!
Lexus LX
The largest SUV in the Lexus lineup, a used LX three-row SUV is the perfect way to take the entire family--up to eight passengers--anywhere you want to go in both comfort and style! Despite its luxurious amenities, the LX is capable of handling some towing or off-road adventures!
Does Lexus Have Parking Sensors/Parking Assist?
Absolutely! Lexus understands that parking can be difficult, especially when it comes to parallel parking. Intuitive Parking Assist uses four sensors--two each in the front and rear bumper--to detect objects around your Lexus. You'll hear audible tones and see information on the multimedia display alerting you to the position of your Lexus and its proximity to potential hazards!
Some newer models have an available Panoramic View that gives drivers a 360-degree picture of what's around the Lexus, further aiding the parking process. Talk to our friendly eCarOne sales team to see what used Lexus models feature Intuitive Parking Assist.
What are the Lexus Sedans?
The current Lexus sedan lineup features approximately seven models, giving drivers a nice selection of luxury cars to choose from!
The compact Lexus IS is the smallest in the sedan lineup, with two engine options that deliver great performance. The midsize Lexus ES is also available as a hybrid. The traditional model has a V6 engine standard. Those who love the drive might prefer a Lexus GS, with a transmission and performance geared for driving enthusiasts. The Lexus GS F has a massive V8 engine and can hold its own on any racetrack. Finally, the Lexus LS and Lexus LS hybrid are the largest sedans Lexus offers, with top-line performance and comfort!
eCarOne is familiar with Lexus sedans and can help you find the one that ideally fits your budget and lifestyle.
What are the Lexus Trim Levels?
Lexus vehicles come in a variety of trim levels, sometimes as many as eight, depending on the model! The trim levels can be confusing, but here are some helpful hints you can rely on as you search for your next used Lexus in the Dallas area.
The numbers behind the trim generally refer to the vehicle's engine size. The GS 300 sedan, for example, is equipped with a 3.0-liter engine. For the most part, the larger the number means the larger the engine--and more horsepower.
Letters are also incorporated into trim names. 'h' denotes a hybrid model. 'F' denotes high-performance models that are derived from race cars. 'F Sport' is a performance package, and doesn't notate a larger engine. 'L', meanwhile is for any model with a longer wheelbase.
Keep this information in mind when searching for your next used Lexus in Carrollton at eCarOne!
Find a Used Lexus in Carrollton at eCarOne
When you're ready to start your luxury car shopping in earnest, we invite you to visit our Lexus dealership near Dallas and speak with a member of our team about our selection of Lexus sedans and SUVs. Our team is always happy to answer any questions you may have around car financing in Carrollton, a particular model or arranging a test drive.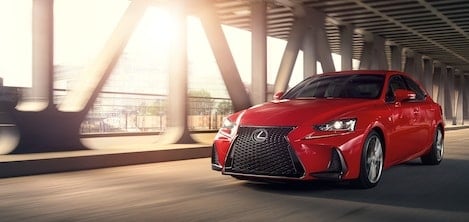 Shop All Luxury Cars from Dallas/Fort Worth
Showroom Hours
Monday

By Appointment Only

Tuesday

By Appointment Only

Wednesday

By Appointment Only

Thursday

By Appointment Only

Friday

By Appointment Only

Saturday

By Appointment Only

Sunday

Closed