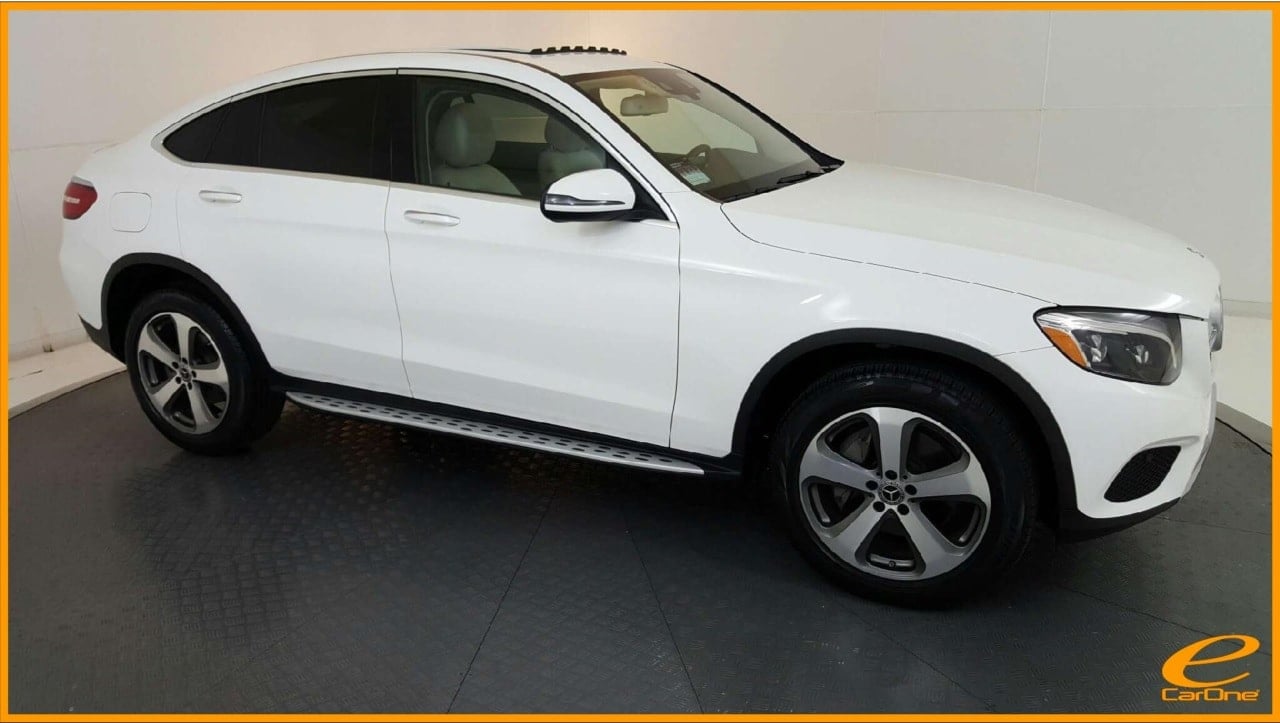 2017 Mercedes-Benz GLC-Class GLC300 Coupe 4Matic
Mama D here and I want to wish you all a very happy, healthy and prosperous New Year with a new vehicle in your future…and of course one that is purchased at my favorite luxury car dealership in the Dallas Area, eCarOne!!
Mama D absolutely fell in love with the looks of this awesome 2017 Mercedes GLC300 Coupe the first time she laid eyes on it. It has a gorgeous body style that is sporty and classy and looks stunning in Polar White! This particular car comes equipped with $11,000 in options and here are a few; a Premium 3 Package, upgraded surround sound system, running boards, heated steering wheel, and magnificent Active LED Headlights W/Adaptive High Beam Assist…which Mama D really appreciated in the dark and rain!
The interior of this GLC300 Coupe is Silk Beige /Black accented with Dark Brown Linden Wood Trim and is very plush and extremely comfortable. Mama D absolutely loved the steering wheel in this GLC and didn't even realize it was heated-lol. Either Mama D is advancing technologically; or setting up Blue Tooth in this GLC is child's play in this vehicle cause Mama D was done in record time!!! Everything is beautifully laid out and the display screen is easy to read while driving without getting distracted.
After getting everything adjusted and installing her Valentine, Mama D is ready to blast off and see what this Mercedes-Benz GLC300 Coupe has got. Mama D, being the lead foot that she is, of course had to floor it as soon as she was on 35E! Well guess what? Mama D just discovered that this GLC300 Coupe is actually powered by a 2.0 liter 241 HP, 4 Cylinder Engine!!! Those of you that follow Mama D know about her need and joy of speed, so she was totally shocked to discover that this was a 4 Cylinder Engine to say the least!!! The reason Mama D was so shocked is because this GLC300 Coupe was very responsive when she floored it and was able to able to meet her expectations because had she known she would have been less than thrilled to be driving it!! Don't get me wrong, because we are not talking about neck snapping acceleration here, but Mama D honestly thought she was driving a 6 Cylinder which says a lot for this Mercedes-Benz GLC300 Coupe!!
Another surprising thing to Mama D is the fact that she is actually really enjoying driving SUVs around the Dallas/Fort Worth area. There have been several that she would own herself and this is one of them. One of the features that Mama D really, really loved was the great backup cameras which enabled her to back up perfectly in a pretty small parking spot-which even impressed her son-lol!!! Another thing Mama D loved was the way she could whip the steering wheel around and turn on a dime…something you normally can't really do in an SUV…well you sure can in this GLC300 Coupe!
Mama D would definitely recommend this beautiful 2017 Mercedes-Benz GLC300 Coupe 4Matic to anyone looking for a luxury pre-owned SUV in the Dallas/Fort Worth area. The interior of this vehicle is basically like brand new and for all it has to offer is a great deal priced at $47,950. So why not start the New Year out right and head on over to eCarOne and test drive this beauty or one of our many Mercedes-Benz models in Carrollton…and don't forget to tell them that Mama D sent you!!
Until next time my friends I wish you safe and happy driving!!
Mama D