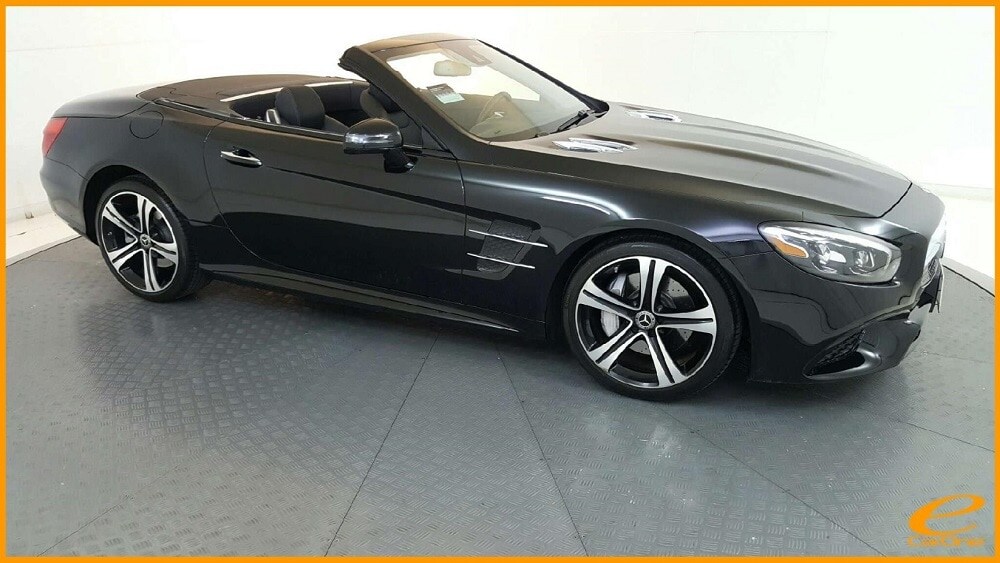 Mama D here and I have been in heaven driving this absolutely fabulous 2018 Mercedes-Benz SL450 in Carrollton! When I walked up to the car I was literally in awe at what a stunning looking car it was…and that was only the beginning!
Edmonds calls this Mercedes-Benz "the gold standard for luxury convertibles" and Dallas drivers will love it, it is easy to see why! This Mercedes SL is powered by a 3.0 Liter Bi-Turbo V6 engine delivering 362 HP mated with a 9-Speed Automatic RWD transmission.
The exterior of this Mercedes-Benz SL450 is black with black leather interior with Burl Walnut wood trim accented with 19" 5-Spoke Wheels that really stand out against the black. The interior is surprisingly spacious for a 2 seater and extremely comfortable with very little noise while driving.
This SL comes with a bunch of great standard features including Smartphone Integration, Apple Carplay/Android Auto, Ambient Lighting, Navigation, Power Folding Mirrors, Garage Door Opener, Active Brake Assist and Kneebags. Mama D loved the LED Intelligent Lighting System with Adaptive High Beam Assist which made driving on dark back roads so much easier...and safer! It also has a Premium Harmon/Kardon Logic 7 Sound System that delivers crystal clear sound and other car brands charge big bucks for! It really delivers if you have the top down and are cruising on the highway and have the volume turned up high!!
This Mercedes-Benz has a convertible hard top, which at the press of a button automatically retracts and could not be any simpler to operate! With Mama D's luck it was 78 degrees the day I picked up the car and the first thing I did was put the top down. It also has a power-retractable wind deflector if you are not into that wind-blown hair look-lol.
Once you are on the highway it is easy to lose yourself with the superior handling this vehicle offers. It is like a thoroughbred just waiting to unleash its power…and boy does it have power…0-60 in a mere 4.9 seconds!!! In fact, The Wall Street Journal referred to it as having "Mega-Horsepower" and trust me it does! It also offers the most awe-inspiring sound while accelerating and its Active Body Control System keeps it hugging the road; even in high speed turns!
The SL450 is perfect for those seeking an expert balance of sport and luxury and it is easy to see why this car holds the top position in the luxury convertible segment! This is just a great, great looking and driving vehicle that I just can't say enough good things about!! Normally it would really bother me that there was no blind spot assist on a car I was driving but that was not a problem at all because you are low and have great visibility.
This 2018 Mercedes-Benz SL450 in Carrollton was definitely by far the most fun car Mama D has ever driven…so much fun I begged for extra time with it!! There is a reason why Edmunds gave it an 8.1 overall rating and had it not been for the limited cargo space it would have been higher; but let's be real you are not buying this car for trunk space!! So all of you sports car enthusiasts out there need to visit eCarOne: your Mercedes-Benz dealer for Dallas area drivers and test drive any of our used luxury cars near Dallas and let the car challenge you to a driving experience you will never forget!!!
Until next time happy and safe driving!
Mama D