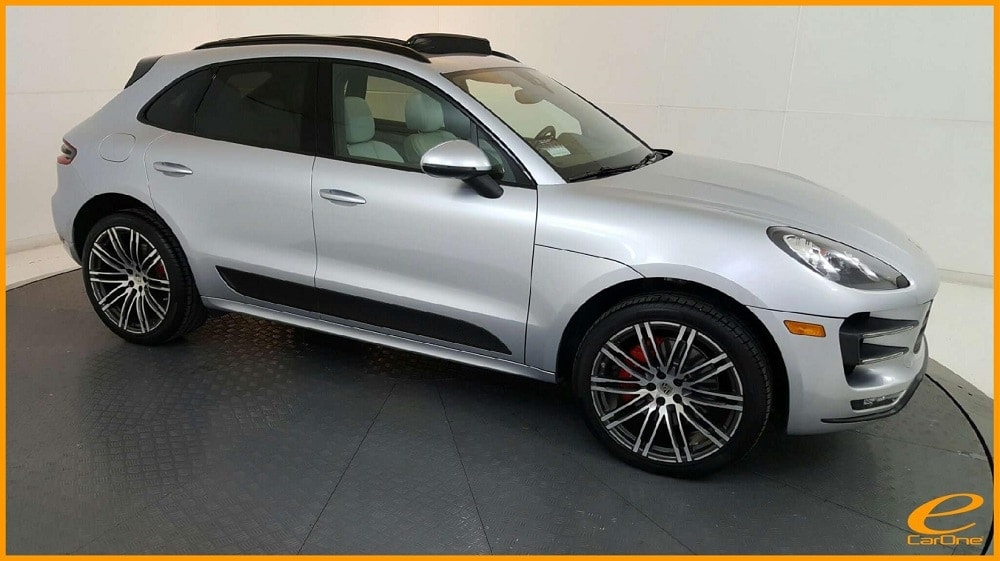 Mama D here and this past week I had the pleasure of driving this fabulous 2016 Porsche Macan Turbo through the Dallas area with over $13,000 in added options. This beautiful Porsche in the Dallas area has a Rhodium Silver Metallic exterior and Agate Gray/Pebble Gray interior complimented with the very sharp looking 21" 911 Turbo Design Wheels, and the most amazing Carbon Fiber Sideblades on the doors that add some major flair!
From the outside this is a great looking SUV for Dallas streets; but once I got in it I found myself sitting in the absolute most comfortable seats I have ever experienced before!! They literally hug your body and are part of the Premium Package Plus. They are 18-Way Adaptive Sport Seats with Memory and they are worth every penny because they are a lot more comfortable than some living room furniture I have sat in and make driving this Macan Turbo a dream!!!
Under the hood of this beautiful Porsche SUV you will find a powerful 3.6 liter 400 HP V6 turbo engine capable of going 0-60 in 4.6 seconds and boasting a top speed of 165 MPH... imagine that!!! I highly recommend you put it in Sport Plus Mode and make it howl :) I did and it was such fun driving this Porsche Macan Turbo that I so wished I was on a racetrack so I could really let loose and let it rip even more! Sports Mode Plus gives you sharper steering and absolutely flawless phenomenal pick up!
This 2016 Porsche delivers a driving experience unlike any other crossover SUV in the Dallas area. It is the fastest in its class and there is a reason it was sold out for eight straight months! You can corner the turns at high speeds and experience zero body roll. Driving this luxury SUV on the Dallas streets is just like driving a sports car because that is exactly the way it handles. With the premium cabin and luxurious interior this Porsche Macan is perfect for any kind of driving, be it a trip to the store or a cross country jaunt!
This Porsche Macan Turbo comes equipped with lots of safety features including Back Up Camera, Blind Spot Assist, Lane Departure Warning and Lane Keeping Assist as well as front and rear Park Assist to name a few. It has both Keyless Entry and Keyless Start, Heated Steering Wheel, Navigation, Panoramic Sunroof and Blue Tooth hands free. This Porsche Turbo also has a spectacular BOSE 14-Speaker Premium Audio system that will make you feel like you are in the middle of a live concert!
Mama D has driven a lot of different luxury SUVs throughout Dallas, Plano, Frisco and beyond of all different makes and models and this one hands down is the favorite out of all of them. This 2016 Porsche Macan Turbo in my opinion gives the driver the best of all worlds; style and beauty outside, a superior level of comfort and luxury inside, and a driving experience unlike any other with unparalleled aerodynamics capable of leaving the competition in the dust!! Definitely Mama D's kind of vehicle!!!
I urge you to head on over to eCarOne: your luxury Porsche dealer in the Dallas/Fort Worth area and test drive this beauty for yourself and find out what all the buzz is about! I really hated to give this great Porsche back because I consider it perfect in every way!!! Don't take my word for it though, go test drive this SUV or any other luxury car from this Dallas/Fort Worth area dealership and see for yourself!
Until next time happy and safe driving!
Mama D