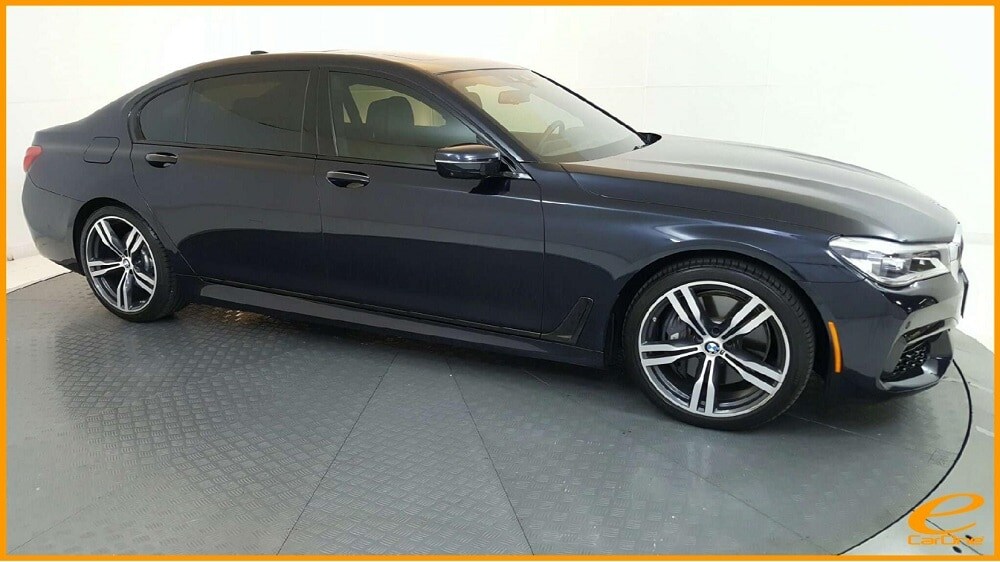 Greetings, Mama D here and this week I am super excited to be driving an absolutely gorgeous 2016 BMW 7 Series 750 i xDrive M Sport. This stunner has a carbon black metallic (blue) exterior with black interior with the Autobahn Package which included black painted brake calipers adding to its beauty!
Mama D loves BMW 7 series and used to drive a 745i that I knick named Beastie (due to the fact that BMW was a beast with limitless speed-lol). After a break-in at our business Beastie was roaring down I 30 at 3:15 am going 135 MPH like it was nothing! Mama D was excited to see what this much newer 750i was capable of!
This 750i has over $23,000 worth of options so it is absolutely loaded with goodies; a lot of which Mama D would not dare attempt to use!!! I was able to very quickly and easily (a big surprise-right-haha) set up my phone and everything just the way that I wanted it and I was ready to blast off-haha.
If you have never driven one of these great cars you really are missing out because you feel like you are floating when you are in one of these…no matter what speed you are driving at!! Let's face facts folks, these BMW models were built to drive on the Autobahn where there is NO speed limit so they are surely king of the road in the US-lol. Mama D's biggest problem driving this car was holding back from driving like I was on the Autobahn; but for a short period of time I did let loose and experience the pure joy of the "Ultimate Driving Machine"-lol!
All Mama D can say is that this BMW 750i drove and handled like a dream…driving this car was almost like being on a magic carpet because it was just so smooth and effortless…something very few cars are capable of delivering!!
Life, as we know, is not just fun and games so now it's time for Mama D to spring into action and get ready for her daughter's visit from overseas. I am telling you this because I am going to be having a party for her at the house and am also cooking an early Thanksgiving dinner while the whole family will be together.
My first stop will be Costco and before leaving the house I put a tarp across the entire back of the car because I plan on buying mums. In fact, I bought 10 giant mums and they all fit in the back seat area which was astonishing because they didn't all fit on the flatbed cart!! (By the way, if you need mums go there because they are only 9.98 for ones that are 20+ everywhere else-lol). After loading those in the car, I went back inside and did grocery and other shopping. My next stop was Walmart and my final stop was Aldi.
Bear in mind that in addition to the mums, I now had a 22 lb turkey, 10 lb ham, everything associated with making Thanksgiving dinner, 2+ cases of wine and a case of beer, paper goods for the party, etc. etc. My point is…if Mama D can fit all that in the car imagine all the room you and your family would have!! Your back seat passengers will love you and the trunk has tons of room.
I will say that Mama D got compliments on this car everywhere I went, that is how gorgeous it is (or was it the driver-lol). If you are looking for a vehicle that will excite you every time you start the engine than you need to get yourself one of these exceptional BMW 7 Series in the Dallas area!
As far as Mama D is concerned, this 2016 BMW 7 Series 750i xDrive M Sport truly offers the driver an experience like no other. It combines stunning visual beauty with raw untamed power, luxury and comfort like you have never experienced and performance and handling for the Autobahn! Priced at $64,950 Mama D thinks it's a steal deal!!! So head on over to your top stop for used luxury cars in the Dallas/Fort Worth area, eCarOne to test drive this spectacular car and tell them Mama D sent you! A comment would be nice too-lol!!
Until next time, happy and safe driving!
Mama D