This week I am test driving a 2018 Mercedes-Benz C300 Convertible AMG Line. I must admit that I was a bit apprehensive at first because I have only driven larger, more powerful Mercedes-Benz due to my "need for speed!" It was a really sharp great looking car..but how would it perform? Well guess what? I was very pleasantly surprised at all the power this car had with its 2 L Turbocharged 240 HP 4 Cylinder Engine. I really stepped on it as I entered the express lanes of 183 and was quickly cruising at 95 MPH. At this speed the car handled really well and if I hadn't known, I would not have guessed that I was only driving a 4 cylinder car!!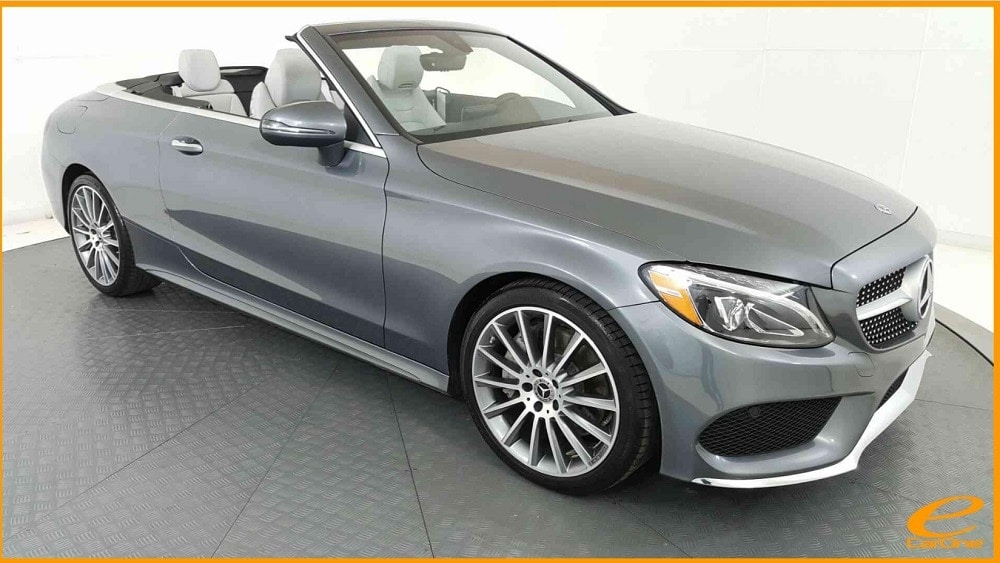 When I first sat in the wheel, I was very surprised at how comfortable the seat was…exceptionally so in fact. All of the controls were easy to find (although they took a little getting used to as I am somewhat technologically challenged; or so I have been told). I decided to drive with the top down and all I had to do was put my foot on the brake and press a button and presto the top was down! You press another button and a wind blocker will pop up and reduce the amount of air coming at you from behind.
One of the things that I really loved about this car was the ease in which you can maneuver effortlessly and it has a great turning radius making it even more fun to drive!
This particular car has all the bells and whistles including, Cabrio Comfort Package, Aircap, Semi-Automatic Trunk Separator, Power Folding Mirrors, Sirius XM Satellite Radio and Burmester Surround Sound System which sounds awesome by the way! It also comes with blind spot sensors and blind spot assist warning, which is priceless as far as I am concerned! This car has tons of extras too numerous to list, so I suggest you check it out at eCarOne to see for yourself.
Another thing that really surprised me about this car was the amount of room the trunk had. At first glance, it looks like a tiny little trunk due to the equipment for the convertible roof. Well after doing some major grocery shopping it was really hard for me to believe that everything fit nicely in the trunk, but it did!!
Overall, this is a great little car that I highly recommend test driving. Priced at just $45k this car is bargain priced as well!! So head on over to eCarOne at 1875 N. Interstate 35E in Carrollton and tell them Mama D sent you!
Until next time Happy and Safe Driving!!