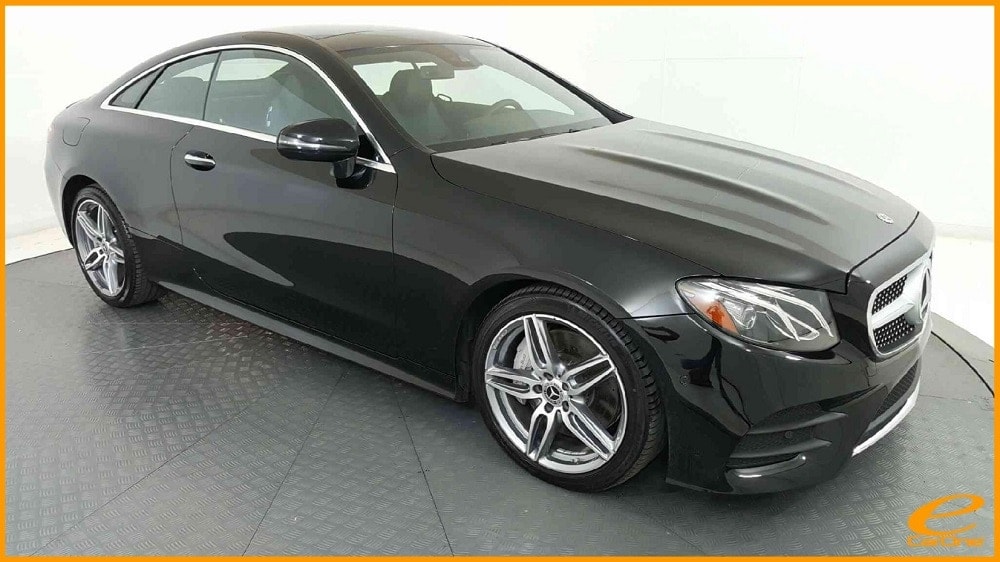 Hello everyone. Mama D here and this week I have the pleasure of driving a 2018 Mercedes Benz E400 Coup AMG Line. I have to admit that I was totally unfamiliar with this model Mercedes-Benz so it was a learning experience for me.
From the outside this is a really sharp looking midsize luxury car complimented with AMG Body Styling and 19" AMG 5-Spoke Wheels that anyone would be proud to be driving!
Upon entering the car, the first thing I noticed was how lavish the interior was and the size of the central display…it's actually a 12.3 inch high-resolution screen; bigger than any I have ever seen in a car before! The heated and ventilated memory front seats were fully adjustable and extremely comfortable. The doors and dash have beautiful black ash wood inserts that add to the overall luxury of the cockpit. My favorite feature though is the absolutely stunning LED Mood Lighting on the dash, doors and floors!! You can choose from 64 colors but the pinkish purple in particular was really vibrant and beautiful!
The fully adjustable steering wheel comes with all your audio controls so you don't have fumble around trying to find them while you are driving. I added my phone to the Bluetooth, adjusted all the mirrors and seat and I was ready to drive. Its 3L V6 BiTurbo Engine did not disappoint and had great acceleration!
This Mercedes-Benz gives the driver an extremely smooth comfortable ride and would be a pleasure to drive on a long trip. It is quick, (a must for me-lol) responsive, elegant and comfortable loaded with many high tech features. Okay so if I am totally honest…some of these high tech features were just a little too high tech for me to attempt to use!! One of these features is the Parking Pilot w/Advanced Parking Assist.
The Parking Pilot is a remote-control system for moving into and out of parking spaces; available for the first time and controlled from outside the vehicle by smart phone via Bluetooth. I had to Google this to find out what it was, by the way! This sounds like an awesome feature but truth be told I was absolutely too terrified to try it because I am reminded every day of how truly technologically challenged Mama D really is!!!! This feature as well as the Advanced Parking Assist (which I believe parallel parks the car for you) would absolutely require one on one training…perhaps even a few sessions before I would have the nerve to try it!! I have no fear to drive at 150 MPH but I think I will leave the Parking Pilot for someone else to try..thank you very much!
This is a great looking and driving car getting rave reviews for its safety, comfort, technology and looks…4.8 on Cars.com that Mama D would personally recommend!
You can test drive this beautiful vehicle and view our full inventory of luxury used cars at eCarOne located at 1875 N. Interstate 35E in Carrollton and be sure to tell them Mama D sent you!
Until next time, I wish you all Happy and Safe driving!
Mama D