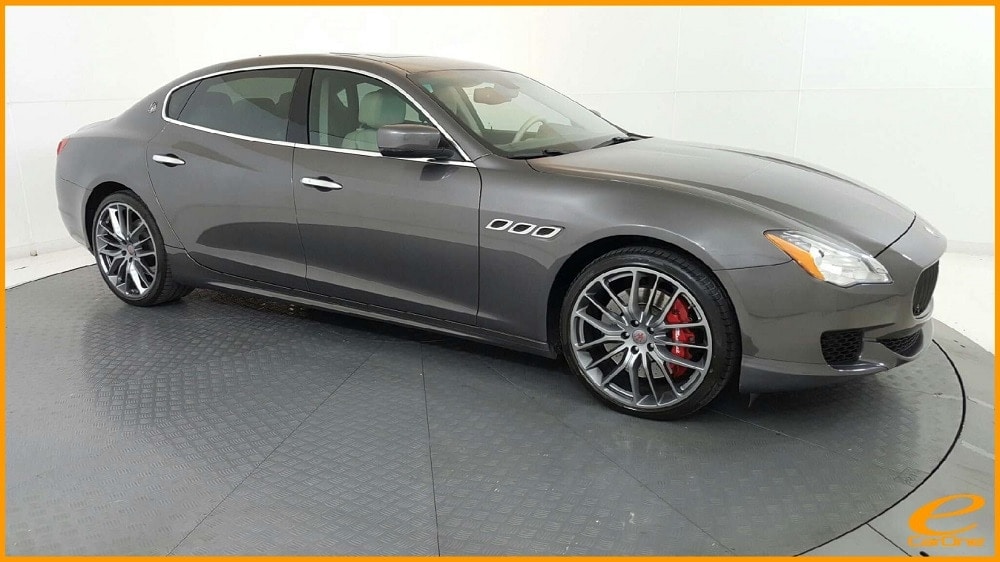 Hi guys Mama D here, and this week I am living my dream as I am driving a Maserati Quattroporte GTS through Carrollton; one of my all time favorite cars!!! I have been a passenger in one many times but never a driver, so this was a first for me!
I had a hard time containing myself when I turned in my last car and was brought to this one!!! This car combines the best of all things…beauty, comfort, superior dynamic handling, elegance and most important for Mama D speed and power!! Needless to say I was thrilled!! The exterior is Grigio Maratea Metallescent and the interior is Sabbia meaning Dark Grey Metalic and beige leather….a stunning combination with red brake calipers.
So I sit in the car and start it up…remember the button is on the left in this car, press sport mode and I hear the most glorious sound…raw power just dying to explode!!! Mama D was definitely in love and I hadn't even left the parking spot!! I loved the big touch screen which had everything clearly laid out even for…dare I say, technologically challenged ones like me-hahah. Believe it or not, with a little assistance I was able to set up my phone and all my contacts for Bluetooth, as well as my Pandora…pretty good huh?!?! The seats were really plush and fully adjustable and I loved the matching leather steering wheel. The whole interior of the car was simply stunning!!
Okay, now for the real fun…let's rock and roll and put this V8 Twin Turbocharged 523 HP engine to the test! WoooooWhooooo! I make my way onto I-35 and am immediately blown away by the neck snapping acceleration this car delivers!! Smooth, flawless power delivering superior performance at its finest!!! This car truly was a dream to drive!!! My biggest problem was trying to do anywhere near a reasonable speed; because with the dynamic driving experience this car delivers I felt like I was crawling when I did drive the speed limit!!!
I put on Pandora and blasted it throughout the car and made my way to the express lanes. I was cruising along enjoying the ride and the music when out of the corner of my eye I see a Mustang alongside me trying to race. My first thought was -are you kidding me…this car will blow your doors off!! Wrong move pal; I floored it and Mama D left that guy in the dust!!! This Mustang turned out to be just a poor little pony-lol!!! I also broke my own personal record which I will not divulge at this time-haha….Mama D doesn't want to get grounded!!!
I continued my drive home and just enjoyed driving this all around great vehicle! The Maserati Quattroporte GTS has so much to offer the driver; it's elegant and classy, comfortable and luxurious, sexy and dynamic and the end result is one gorgeous vehicle that hauls ass!!!
This is a great car for every scenario…a family on a long distance drive, an executive going to work and meetings, singles out to have fun, or a nut like me with an obsession for speed!!! I can only imagine what it would be like driving through the Italian country in this beauty….shear heaven!!!
Seriously though, if you have never driven one; you really owe it to yourself to go test drive one and experience all that the Quattroporte GTS has to offer like Mama D did! You can drive this one, as well as others like it at eCarOne or check out the certified pre-owned and new ones at Essence Maserati Alfa Romeo…. either way, just make sure and tell them Mama D sent you!!!
Until next time I wish you all Happy and Safe driving!!
Mama D